Send a Text Message
Access this product information directly from your mobile device, or share the product with someone else by sending it in a text message.
EdgeStar
KC1000SS
Item # bci

2794211
$510.00
EdgeStar Craft Brew Kegerator
EdgeStar KC1000

EdgeStar KC1000
EdgeStar KC1000 EdgeStar Craft Brew Kegerator
Discount already applied. No coupon necessary.
Offer Ends 12-04-2023
Dispense Gas: CO2
Nominal Height: 33 in.
Nominal Width: 18 in.
Control Type: Digital
Dispense Liquid: Beer
Installation Type: Free Standing
Number of Draft Towers: 1
Number of Taps: 1
With Casters: No
Energy Star: No
Depth: 18.25 in.
Height: 33.25 in.
Width: 17.5 in.
Description & Specifications
EdgeStar 5 Gallon Craft Brew Kegerator Stainless Steel Door
Keep your craft brew cold and ready to serve with the customizable EdgeStar 5 Gallon Craft Brew Kegerator Stainless Steel Door (KC1000SS). This compact sized kegerator is designed to fit one sixth barrel or one Cornelius keg, in addition to a CO2 tank inside. The KC1000SS comes equipped with all of the necessary components needed to store and dispense a beer keg. Thanks to the internal circulation fan, the KC1000SS will excel at chilling your beverages to as low as 32°F without freezing them, while helping keep an even temperature within the unit. The solid stainless steel door combined with the blue LED interior lights and digital thermostat provide a modern and sleek appearance that compliments any room.
Features
Low Temperature Thermostat
The digital control panel allows you to easily adjust and monitor your temperature settings to ensure your beer is perfectly chilled. The ultra-low thermostat maintains temperatures as cold as 32 degrees without freezing the keg.
Slim Width
With a slim 17.5 in. width, this kegerator is able to fit in many spaces that standard sized units cannot, allowing for optimal user flexibility.
Integrated Door Lock
The built-in lock enables for your KC1000SS to remain completely secure, which also helps maintain the desired interior temperature.
Beer Components Included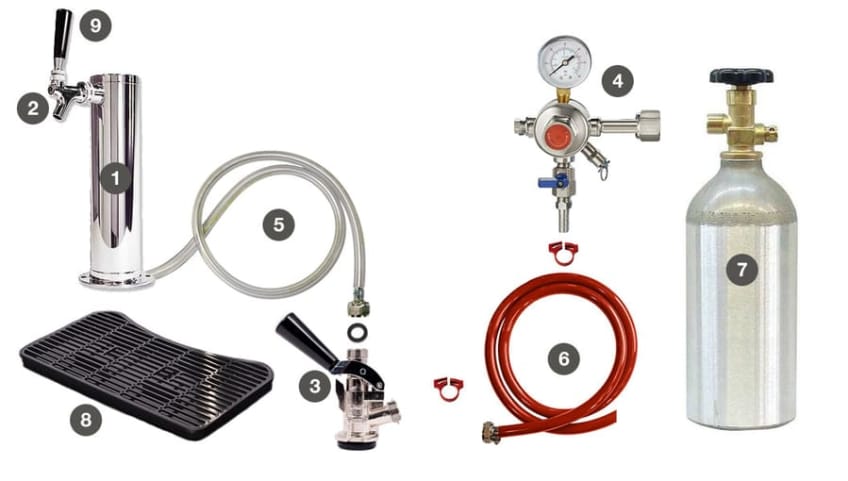 Stainless Steel Column Draft Tower
Chrome Plated Brass Faucet
Domestic "D" System Sankey Coupler
Single Gauge Regulator
5 ft. of 3/16 in. I.D. NSF Approved Beer Line
4 ft. of 5/16 in. I.D. Vinyl Air Line
2 1/2 lb. Aluminum CO2 tank (Empty)
Drip Tray
Black Tap Handle
Keg Types & Capacities
Sixth Barrel Keg
Cornelius Keg
Sixth Barrel Keg
Cornelius Keg
Easy 10 Minute Assembly
Use our easy to follow instruction guide or assembly video to build your kegerator. The average assembly time is 10 minutes and can be completed with minimal skill.
* Please keep in mind the CO2 tank comes empty due to HAZMAT shipping restrictions and will need to be filled at a local air/gas or welding supplier.
** When assembling the beer coupler to the air line, do not discard the clear check valve inside the coupler as this prevents air leaks and liquid from flowing back up into the regulator.
Recommended Cleaning Kits
We recommend cleaning your beer lines after every keg or a minimum of every two weeks. Here are our most popular options:
Frequently Asked Questions
Can I build-in this unit undercounter?
No, this unit is not intended for built-in use*. We recommend that you upgrade to a KC7000SS built-in model.
*If you still intend on building this unit in we recommend a minimum clearance of 2"-3" on the back and sides. This recommendation is at the user's discretion and can void the warranty if used improperly.
Do I need anything else?
This setup comes with essentially everything you need to get started. All you'll need to do is get the gas cylinder filled and a keg of your favorite beer.
How many kegs will the CO2 tank last?
Once filled, the gas cylinder that is provided will usually last 3-4 sixth barrel kegs.
Where do I get my CO2 tank filled?
CO2 is a commonly used commercial gas. You should be able to find a local air/gas or welding supplier to fill your tank.
How long will a keg of beer stay fresh in a kegerator?
Typically domestic kegs can last 6-8 weeks staying under the proper temperature and pressure. Pasteurized beers, usually imported kegs, can last up to 12 weeks.
Dimensions
Depth: 18.25 in.
Height: 33.25 in.
Width: 17.5 in.
Owners Manuals
You may download a product owners manual and product information below:
**Please note, Adobe Acrobat Reader is required to view pdf files
×
Federal Law prohibits the sale of this product
All faucets sold within the United States must be low lead compliant. This product is not.
Shipping Details
Shipping Method: Ground / Parcel
This item ships Ground or USPS. Delivery times related to these ship methods are usually between 2 and 7 business days once the product leaves the warehouse. We will email you tracking information once the product leaves our warehouse. Ground or USPS deliveries do not require a signature and may be left at the ship to location. All deliveries can occur Monday through Saturday depending on your local delivery carrier. Order must be fully processed by 12pm CST to be eligible for "Guaranteed Same Day Shipping." Orders processed after that time may ship out the following business day.
Ground or USPS deliveries do not include a guaranteed delivery date. Should you require a specific delivery date or expedited shipping options, please contact our customer service department so they may assist you with options and pricing. Call 1-855-857-3885, M-F 8am to 6pm CST.