EdgeStar
KC2000TWIN
Item # bci

2794227
$499.00 - $519.00
20 Inch Wide Dual Tap Kegerator for Full Size Kegs with Ultra Low Temp
Black Friday Countdown Deal Save 20% plus Free Shipping
Discount already applied. No coupon necessary.
Offer Ends 11-23-2017
List Price: $770.00 - $814.00
$499.00 - $519.00
You Save: 35% - 36%
Save 15% on your First Order

††
With the Build.com Credit Card
EdgeStar Full Size Dual Tap Kegerator with Premium US-Made Components
Set up a home or commercial brewing system to serve cold draft beer using the EdgeStar Ultra Low Temp Full Size Dual Tap Kegerator with Black Door (KC2000TWIN). EdgeStar full size kegerators are capable of reaching temperatures in the low 30s, making them the coldest of any kegerators on the market. Ideal for seasoned beer enthusiasts looking for a reliable kegerator before spending a fortune on a commercial unit, or people who are just starting out. The EdgeStar full size kegerator is an excellent value, combining a designed-to-fit refrigerator with commercial-grade, NSF-approved beer and air lines. All the beer components are high-quality parts that include a Domestic "D" coupler, CO2 regulator, stainless steel draft tower with faucet, beer and gas line and a new aluminum CO2 tank (empty).
Features
Low Temperature Thermostat
Able to maintain ultra low temperatures, the thermostat on the Edgestar KC2000 can reach into the low 30's.
Slim Width
4 in. less in width than a standard full size kegerator while still being large enough to hold a full size keg.
Casters Included
The rolling casters make it easy to move the kegerator from room to room as needed, or while entertaining.
External CO2 Tank Mount
The external tank mount allows you to install the gas tank on the back of the unit giving you more interior space.
Beer Components Included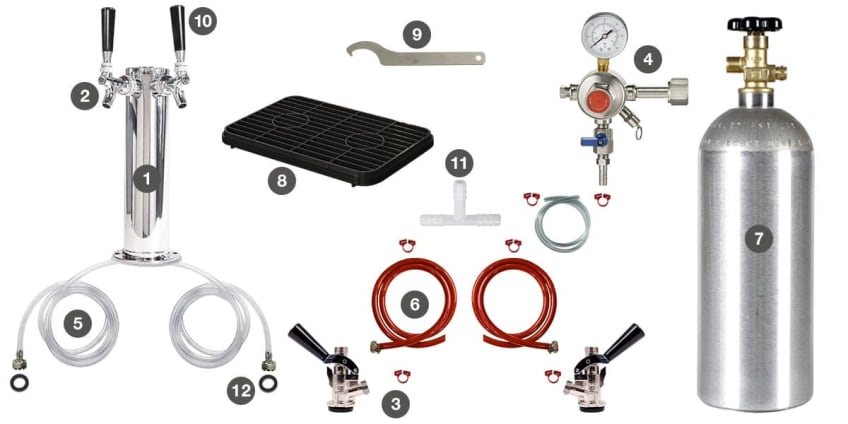 Stainless Steel Column Dual Faucet Tower
Chrome Plated Brass Faucet (2)
Domestic "D" System Sankey Coupler (2)
Single Gauge Regulator
5ft of 3/16in. I.D. NSF Approved Beer Line (2)
5ft of 5/16in. I.D. Vinyl Air Line (3)
5 lb. Aluminum CO2 Tank (Empty)
Drip Tray
Spanner Faucet Wrench
Black Tap Handle (2)
T-Fitting 5/16in. I.D.
Coupler Washers (2)
Keg Types & Capacities
Oversized Keg
Full-Size Keg
Pony Keg
Slim-Pony Keg
Sixth Barrel Keg
Cornelius Keg
(1) Full-Size Keg
(1) Pony Keg
(1) Slim Quarter Keg
Up to 2 Sixth Barrel Kegs
Up to 2 Cornelius Homebrew Kegs
Easy 30 Minute Assembly
Use our easy to follow instruction guide or assembly video to build your kegerator. The average assembly time is 30-40 minutes and can be completed with minimal skill.
* Please keep in mind the CO2 tank comes empty due to HAZMAT shipping restrictions and will need to be filled at a local air/gas or welding supplier.
** When assembling the beer coupler to the air line, do not discard the clear check valve inside the coupler as this prevents air leaks and liquid from flowing back up into the regulator.
Recommended Cleaning Kits
We recommend cleaning your beer lines after every keg or a minimum of every two weeks. Here are our most popular options:
Frequently Asked Questions
Can I build-in this unit undercounter?
No, this unit is not intended for built-in use*. We recommend that you upgrade to a KC7000SS built-in model.
*If you still intend on building this unit in we recommend a minimum clearance of 2"-3" on the back and sides. This recommendation is at the user's discretion and can void the warranty if used improperly.
Do I need anything else?
This setup comes with essentially everything you need to get started. All you'll need to do is get the gas cylinder filled and a keg of your favorite beer.
How many kegs will the CO2 tank last?
Once filled, the gas cylinder that is provided will usually last 4-5 full sized kegs or approximately 13-15 sixth barrel kegs.
Where do I get my CO2 tank filled?
CO2 is a commonly used commercial gas. You should be able to find a local air/gas or welding supplier to fill your tank.
How long will a keg of beer stay fresh in a kegerator?
Typically domestic kegs can last 6-8 weeks staying under the proper temperature and pressure. Pasteurized beers, usually imported kegs, can last up to 12 weeks.
Dimensions
Depth: 24.813 Inches
Height: 48.5 Inches
Width: 20.1 Inches
Owners Manuals
You may download a product owners manual and product information below:
**Please note, Adobe Acrobat Reader is required to view pdf files